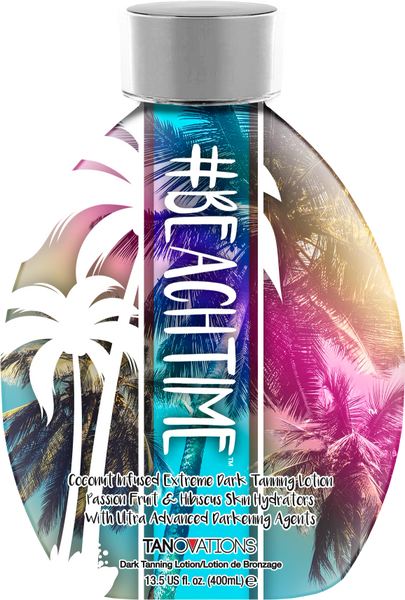 #Beachtime
They say a coconut a day keeps the worries away... Get your dose of the tropics with Tanovations'™ #BeachLife™! This dark tanning elixir utilizes seaweed, passion fruit & hibiscus to help tighten, tone and perfect your beach body. If you have wanderlust for ocean waves and sunny rays, then get lost in the intoxicating #BeachLife™.
Product Specs
Fragrance

- Beaches and Cream

Action

- Tan Enhancer

Sizes

- 13.5 US fl. oz. (400 mL) / 0.5 fl. oz. (15 mL)
Indoor/Outdoor tanning intensifiers deliver dark golden results without the use of bronzing agents.

Coconut Milk & Coconut Oil

- Intense skin softeners and skin hydrators to keep your tanning results lasting longer.

Seaweed Extract

- Draws toxins out of the body.

Hibiscus Extract

- Increases skin elasticity to give a stunning natural youth-boost. Evens out skin's tone and texture as well as deeply hydrates.

Passion Fruit Extract

– Rich in Vitamins A & C to protect skin against free radical damage.

Quad Tyrosine Blend + MelanoBronze™

- Stimulate and increase melanin formation to accelerate the tanning process.

Melactiva™

- Melanin synthesizer for darker, longer lasting results.

Body Fit™

- Reduces the appearance of cellulite and promotes firmness.

Tattoo & Color Fade Protector

- Prolongs the life and radiance of your tattoos and tanning results.