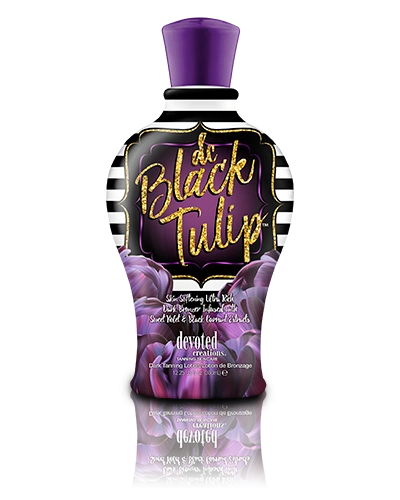 Black Tulip™
Skin Softening Ultra Rich Dark Bronzer
Infused with Sweet Violet & Black Currant Extracts
DC Black Tulip™ is inspired by the beautiful tulips grown in Holland. Known as one of the rarest flowers in the Netherlands, the 'Black Tulip' develops such a dark, beautiful, long lasting colour that we were able to emulate this phenomenon and develop a skin softening bronzing lotion that will aid in achieving the deep, long lasting, sought after colour only available in the rarest of formulas. For colour as exquisite as you are, bloom baby, bloom!
Exquisitely dark DHA bronzers, provide instant and long lasting color.
Sweet Violet Extract contains powerful skin Vitamins A and C.
Black Currant Extract helps reduce skin inflammation.
Hemp Seed Oil provides essential skin hydration benefits.
Counteracts orange tones in skin to provide deepest bronzed results with Blue Tansy™ flower extract
<!--INFO END--> <!--INVBORDER END-->

Fragrance: Black Tulip
Product Actions: Tan Enhancer, DHA Bronzer
Product Specs: 12.25 US fl. oz. (360mL) bottle