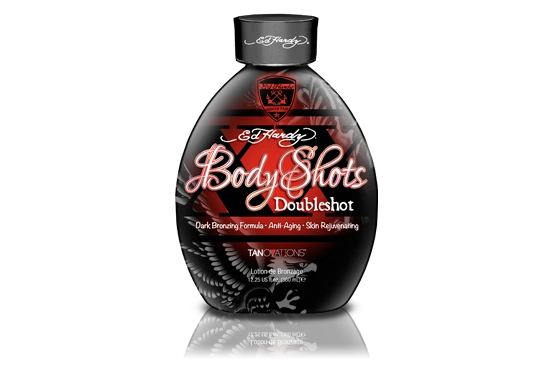 Body Shots Doubleshot
Mega Extreme Black Tingle Formula.    
For the most intense tanning experience yet! DARE to try Body Shots - Double Shot™! Our world famous Body Shots™ formula just got upgraded! More silicone, higher amounts of bronzers and DOUBLE the heat! Some like it hot! but only the pros can handle the Double Shot™.
High amounts of DHA, Natural and Cosmetic Bronzers produce seriously dark immediate and progressive bronzing results for an instant pop of colour
Intense tingle stimulates melanin production for a deeper, darker tan.
Extreme silicone blend locks in tanning results for longer results.
Quad Tyrosine Blend + MelanoBronze™ - Stimulate and increase melanin formation to accelerate the tanning process.
Advanced Matrixyl Synthe 6™ - Tightens and tones the skin while helping to fight the formation of wrinkles.
Melactiva™ - Melanin synthesizer for darker, longer lasting results.
Body Fit™ - Reduces the appearance of cellulite and promotes firmness.
Tattoo & Color Fade Protector - Prolongs the life and radiance of your tattoos and tanning results
Fragrance: Sparkling Citrus
Action: Tan Enhancer, DHA Bronzer, Tingle
Available Sizes: 13.5 US fl. oz. (400 mL)
.7 US fl. oz. (20 mL)