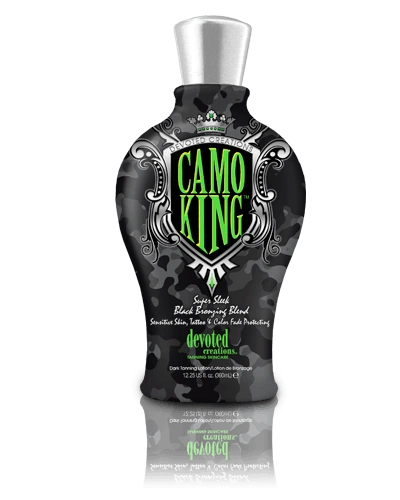 Camo King
Super Sleek Ultra Bronzing Custom Blend
Mattifying and hydrates for sexy touchable skin, Sensitive Skin, Tattoo & Color fade & body deodorizing formula. Camo King is specifically formulated for the man who will settle for nothing but the best. Low maintenance bronzers allow for a perfect golden color skin tightening, mattifying and deep penetrating moisturizers allow for soft, touchable, lust worthy results that last all day and all night. The body deodorizingsystem and intoxicating fragrance is sure to drive her wild and leave you smelling unforgettable. Dark DHA, Natural and Cosmetic bronzers provide instant and time released color to the skin BB Cream Formula Provides anti-aging and skin firming benefits with RevitaFit, and advance Matrixyl Synthe 6™ Very rich in powerful antioxidants Helps to fight dark spots in the skin Tatoo & color fade protection technology
Dark DHA, Natural and Cosmetic bronzers provide instant and time released color to the skin.
BB Crème formula.
Provides anti-aging and skin firming benefits with RevitaFit™ and Advanced Matrixyl Synthe 6™.
Very rich in powerful antioxidants.
Helps to fight dark spots in the skin.
Tattoo & color fade protection technology
Advanced Matrixyl Synthe 6™ – Powerful anti-aging peptide that reduces the appearance of fine lines and wrinkles for long-lasting results.
Revita Fit™ – Tones and tightens the skin.
Intenslim™ – Helps to shrink fat cells for a more toned appearance.
Melanobronze™ – Stimulates melanin activity for enhanced pigmentation.
Tattoo & Color Fade Protection – Protects the color and luster of tattoos and tanning results.
Baobab – Very rich source of calcium and vitamins.
White Birch – Restores firmness and has skin protectant benefits.
PhloreTan™ – Works to reduce dark spots and promotes even skin tone.
FreshTek™ – Proprietary blend of deodorizing and skin freshening ingredients.
Blended with multiple accelerators that work to target melanin production and achieve fast, dark tanning results.
Fragrance: Citron Noir