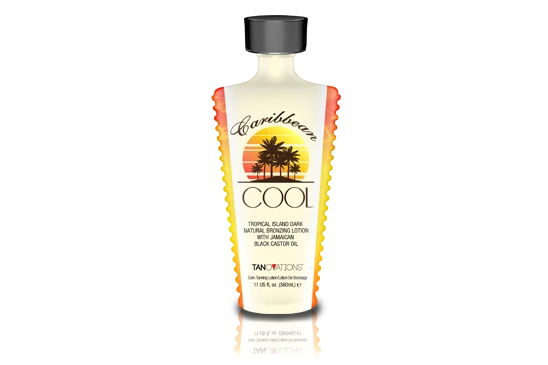 Caribbean Cool
Tropical Island Dark Natural Bronzing Lotion with Jamaican Black Castor Oil
If you crave sunshine kisses and summertime wishes, then escape to the tropics with Caribbean Cool™. This natural bronzing formula will impart streak-free island dark results while also utilizing Caribbean skin care staple, Jamaican Black Castor Oil. You will slow down the signs of aging, help unblock clogged pores as well as soften and hydrate with the lushest levels of Vitamin E. If you dream of salt air in the middle of nowhere, then ride into the sunset with Caribbean Cool™. Paradise awaits!
Product Specs
Fragrance

- Tropical Punch

Action

- Tan Enhancer, DHA Free Bronzer

Sizes

- 11 US fl. oz. (330 mL) / 0.5 fl. oz. (15 mL)
Hemp seed oil

- Adds superior hydration to the skin.

Argan Oil

- softens the skin.

Advanced Matrixyl Synthe 6™

- Tightens and tones the skin while helping to fight the formation of wrinkles.

MelanoBronze™ & Melactiva™ - Stimulates melanin activity to allow for longer lasting, darker tanning results.

Coconut Milk & Vitamin E

- Silky-smooth skin softeners deeply penetrate to hydrate skin.

Jamaican Black Castor Oil

- Unblocks clogged pores while detoxifying, removing excess oil in skin and working as an anti-inflammatory.
Tropical DHA-Free Natural Bronzer provides streak-free/stain-free results.