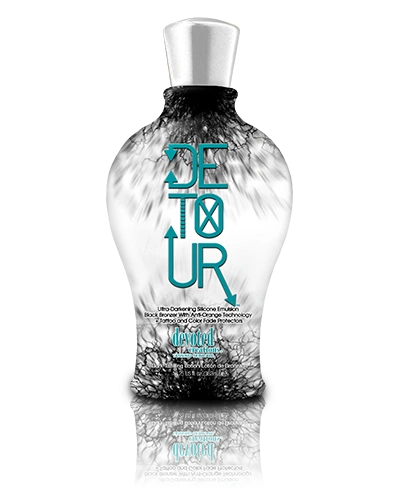 Detour
With Anti-Orange Technology + Tattoo and Colour Fade Protectors
Dark colour, redefined! Detour's™ black, body-bronzing formula will help you shatter your tanning plateau! Anti-orange ingredients plus potent skin firming agents ensure you develop the darkest bronze colour while aiding in perfecting pesky skin imperfections. If you're tanning routine is stuck in a rut, and you are ready to break barriers- take a Detour™!
Black Charcoal Extract Detoxifiers.
Blue Tansy™ Anti-Orange Technology
Tiger Grass™ & Japanese Rose™ Skin Perfectors.
Melatime™ will create darker, longer lasting tanning results.
Fragrance: Moonlight Blossom
Product Actions: Tan Enhancer, DHA Bronzer
Product Specs: 12.25 US fl. oz. (360mL) bottle