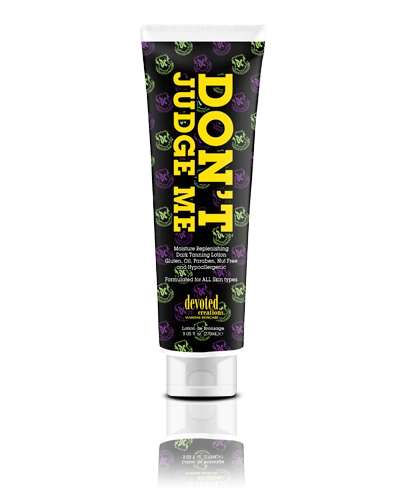 Don't Judge Me
Moisture Replenishing Dark Tanning Lotion
Gluten, Oil, Paraben, Nut Free, and Hypoallergenic   |   Formulated for ALL Skin types
Who said you can't have it all? Deep, dark tanning results, extra hydration along with skin toning and firming ingredients make Don't Judge Me™ your perfect tanning partner. Formulated without the use of glutens, oils, parabens and nuts, this hypoallergenic formula is suitable for all skin types. Everything you need, with nothing that you don't. It's not your average lotion, but we'll let you be the judge…
Moisture Replenishing Intensifier.
Gluten Free/Paraben/Nut & Oil Free.
Melanin Stimulators.
Skin Tightening and Toning.
Cotton & Rice Extract.
Dark tanning activators give skin a natural, sun kissed glow.
MelanoBronze™ – Stimulates melanin activity to allow for longer lasting, darker tanning results.
Caffeine and Green Tea Extracts – Energize, firm and tighten the skin.
Cotton & Rice Extract – Soothe and soften the skin without irritation.
Formulated with sensitive skin tanners in mind.
Fragrance: Tropical Beach
Product Actions: Tan Enhancer