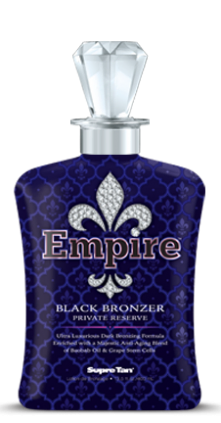 Empire
Empire Black Bronzer Private Reserve is the supreme authority in dark tanning fashion. This Ultra Luxurious Dark Bronzing Formula demands attention with its complex blend of Melanin Activating Peptides, Tyrosine and our exclusive DHA delivery system for dark undaunted color. A majestic Anti-Aging blend of Baobab Oil and Grape Stems Cells renews your sense of style with a firmer, more youthful appearance. Your trendsetting color will command the room the moment you enter with Empire.
An alluring blend of sophisticated Black Bronzers combines the perfect fusion of immediate and delayed color with our DHA delivery system that helps enhance the penetration of DHA for longer lasting more uniformed results.
TrendingColor ComplexTM features Melanin Activing Peptides and Tyrosine to help achieve richer, darker, golden color.
Majestic Anti-Aging Blend with Baobab Oil and Grape Stems Cells helps to smooth and improve skins texture for a more toned and tightened appearance.
Size: 400ml