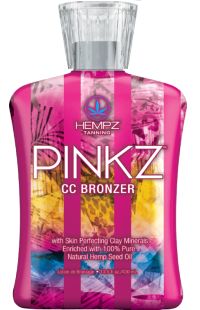 Hempz Pink CC Bronzer
Pinkz is a passion for life. It entices you to be playful, to be romantic and to be your one true self.
Hempz Pinkz Color Correcting Bronzer is the perfect blend of cosmetic and delayed bronzers designed to balance and transform your tan to new levels of rich, dark color. Clay Perfecting Minerals reaffirms your commitment to gorgeous skin as it helps to even out skin's tone leaving it looking smoother as it restores a more youthful looking glow. A sweet scent of subtle Grapefruit with a hint of Raspberry notes leaves you with a feeling of happiness from head to toe.
CC Bronzers combine DHA and cosmetic bronzers to enhance skins over all color while continuing to develop into a deeper, darker, bronze hue.
Clay Perfecting Minerals, rich in photo-nutrients, helps to smooth and even skin's tone for a more youthful looking complexion.
Pink Grapefruit and Raspberry Extract offer an antioxidant boost that helps soothe and renew skin.
100% Pure Natural Hemp Seed Oil hydrates, nourishes and conditions skin leaving it feeling exceptionally soft, smooth and moist.

Size: 400ml