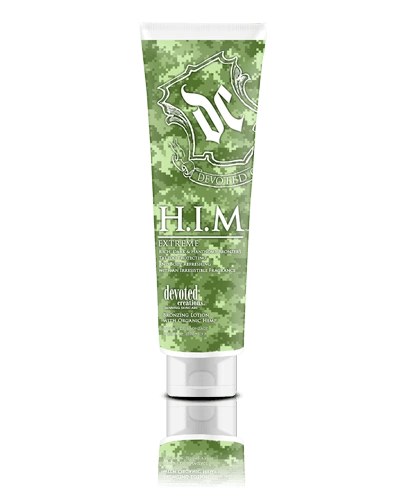 H.I.M Extreme
Tattoo Protecting Body Refreshing & Deodorizing System
HIM Extreme™ is formulated to tan, hydrate and camouflage tired, dry men's skin. HIM™ allows even your roughest edges to be transformed into skin that is touchably soft. Protect your color and your tattoo's with this unique hemp seed oil skin tanning elixir. It's okay to have a bromance with HIM™… We love HIM™ too!
Lightweight lotion in a convenient tube.
Low maintenance instant and time released bronzers.
Sensitive Skin & Body Deodorizing Formula.
Organic Hemp Seed Oil.
NEW AcquaCell™.
Tattoo & Colour Fade Protecting
Anti-aging and Skin-firming benefits
Fragrance: Oriental Black Cashmere
Colour: Dark Brown
Product Actions: Tan Enhancer, Bronzer
Product Specs: 8.5 US fl. oz. (251 mL) bottle