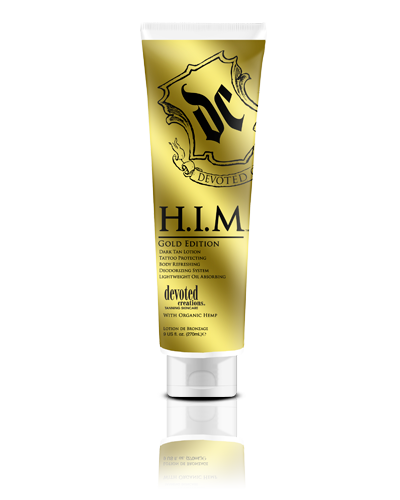 H.I.M Gold Edition
Tattoo Protecting - Body Refreshing - Deodorizing System
HIM Gold Edition™ is formulated to tan, hydrate and deodorize, dry men's skin. HIM™ allows even your roughest edges to be transformed into skin so touchably soft. Protect your color and your tattoo's with this unique hemp seed oil skin tanning elixir. Freshtek™ will leave you with no after tan odor while Tamanu Oil keeps your skin moisturized. It's okay to have a bromance with HIM™… we love HIM™ too! Formulated for indoor & outdoor use."
Lightweight lotion in a convenient tube.
Sensitive Skin & Body Deodorizing Formula.
Organic Hemp Seed Oil.
Tamanu Oil.
Tattoo & Colour Fade Protecting
Anti-aging and Skin-firming benefits
Can be used on Face and Body.
SunXTend™ – extends the life of your tanning results and helps to prevent color fading.
Fresh Tek™ – Body deodorizing blend to leave the skin with no after tan odor.
Vitamins C & E - protect the skin from environmental damage, promote a more youthful looking appearance.
Avocado Extract – Helps counter act reddening in the skin caused by irritation, reddening, and razor burn.
AcquaCell™ – Rapid fine line & wrinkle reducer.
Organic Hemp Seed Oil – Deeply hydrates the skin for better, longer lasting results.
Tamanu Oil - A powerful skin regenerator; aiding in wrinkle reducing, blemish-fighting, and moisturize dry skin. Also, helps to hide the appearance of scars and stretch marks.
Tattoo & Colour Fade Protecting formula – Protects the colour and lustre of your tattoos.
Matrixyl Synthe 6™ – targets and fills in fine lines and wrinkles.
Formulated with various accelerators to speed up the tanning process for faster, darker results.
Fragrance: Oriental Black Cashmere