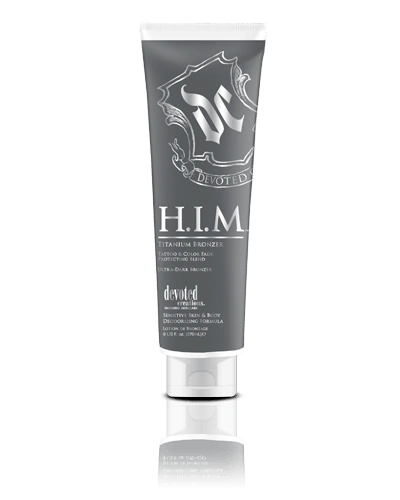 H.I.M Titanium Bronzer
Tattoo & Colour Fade Protecting Formula   |   Sensitive Skin & Body Deodorizing Formula
HIM Titanium Bronzer™ is formulated for a man's skin. Low maintenance bronzers allow for an easy, ultra, even dark color every time. Avocado Extracts help to counteract reddening of the skin from burns or skins irritations. After tan odor eliminators allow this non-greasy formula to keep you smelling fresh. Its okay to have a Bromance with HIM™ – we love HIM™ too.
Lightweight lotion in a convenient tube.
Low maintenance instant and time released bronzers.
Anti-aging and Skin-firming benefits
Fragrance: Oriental Black Cashmere
Product Actions: Tan Enhancer, DHA Bronzer
Product Specs: 8.5 US fl. oz. (251 mL) tube