H.I.M Ultimate Dark Tanning Lotion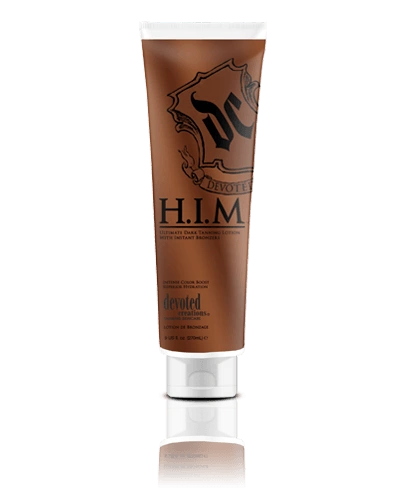 H.I.M Ultimate Dark Tanning Lotion
HIM DARK TANNING LOTION WITH BRONZER™ is a triple bronzing blend of DHA, natural and cosmetic bronzers that will deliver both immediate and delayed bronzing results. It is also formulated with vitamins C and E, Lychee fruit and Matrixyl™ that will work together to help protect the skin from environmental damage, slow down the signs of aging and keep the skin looking youthful. Shea Butter and other moisturizing agents will work to nourish and condition the skin leaving it soft and smooth. An Oriental Black Cashmere fragrance is a light and bold fragrance designed for with all men in mind!
Lightweight lotion in a convenient tube.
Dark instant and delayed bronzers.
Anti-aging and Skin-firming benefits
Formulated with various accelerators to speed up the tanning process for faster, darker results.
Fragrance:

Oriental Black Cashmere