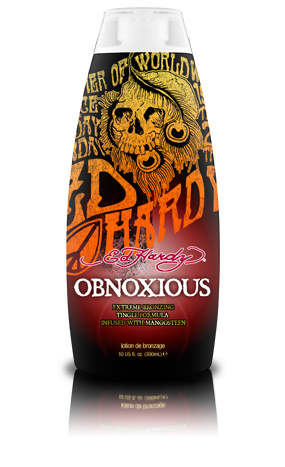 Obnoxious Extreme Tingle
XXXtreme Bronzing Tingle Formula Infused with Mangosteen.
This extreme bronzing formula takes tanning to the next level with extreme sizzling tingle. Serious tanners only! This formula gets you dark! Natural Hemp Seed Oil works to moisturize and soften the skin and Mangosteen provides serious anti-oxidants to slow the aging process. So good it's obnoxious!!!!
Mangosteen - Rich in antioxidants it helps to combat the aging process.
Tingle Formula - Proving immediate reddening and warming to the skin.
Vitamins C & E - Moisturizes and repairs dry and damaged skin
Fragrance: Mango Indulgence
Action: Tan Enhancer, Bronzer, Skin Firming, Tingle