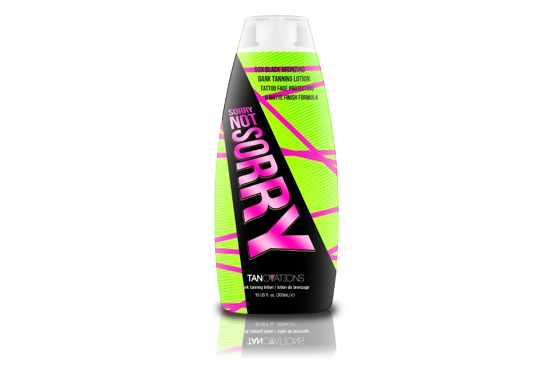 Sorry, Not Sorry
50X Black Bronzing Dark Tanning Lotion | Tattoo Fade Protecting & Matte Finish Formula
If you have tried out the competition with lack luster results, it's time to be a Goal Digger and move up to top-notch color. You live, you learn, you upgrade. Our Tattoo & Color Fade protectors combined with anti-inflammatory agents and soothing skin softeners to make this matte finish, black bronzing lotion the full package. With color like this, you won't just make an appearance; you will make an impact - Sorry Not Sorry™!
Product Specs
Fragrance

- Starfruit & Aloe

Action

- Tan Enhancer, Bronzer

Sizes

- 10 US fl. oz. (300 mL) / 0.5 fl. oz. (15 mL)

Benefits

Insanely Dark, High Levels of DHA, Natural & Cosmetic Bronzers for immediate and prolonged bronzing results.

BB Créme

- Beauty Balm that primes, mattifies & perfects skin for airbrushed results.

Tattoo & Colour Fade Protection

- Protects the colour and luster of tattoos and tanning results.

Avocado, Aloe Vera & Cucumber Extracts

- Provides calming, soothing, anti-reddening, de-puffing, and moisturizing properties.

MelanoBronze™

- Stimulates melanin activity to allow for longer lasting, darker tanning results.

Hemp Seed Oil, Macadamia Nut & Almond Oil

- For added hydration, nourishment and skin conditioning benefits.