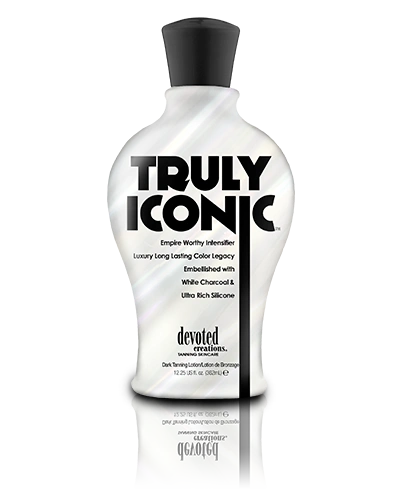 Truly Iconic
Luxury Long Lasting Colour Legacy, Embellished with White Charcoal & Ultra Rich Silicone
They say to dress how you want to be addressed. With this colour classic your look will go from fair to famous! This empire worthy intensifier will have you brunch-time-bronzed with no added self-tanners and standard setting, skin perfecting ingredients. Not to be petty, but know your worth... you were not made to be subtle, you were born to be Iconic!
Scandalously iconic tanning intensifier.
Japanese Rose™ collagen boosters.
Tiger Grass™ blemish fighters.
White Charcoal reduces excess oil.
Advanced Matrixyl Synthe 6™ and BodyFit™ skin firmers
C5 Technology™
Fragrance: White Diamonds
Product Actions: Tan Enhancer
Product Specs: 12.25 US fl. oz. (360mL) bottle