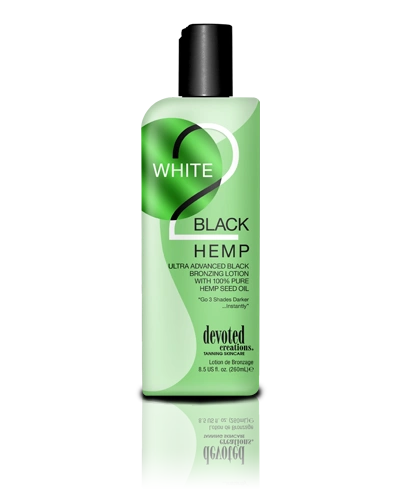 White 2 Black Hemp
With 100% Pure Hemp Seed Oil
With White 2 Black Hemp™ - you will experience darkness like never before. Formulated with more accelerators, darker DHA and natural bronzers this lotion will allow you to go 3 shades darker – instantly! Higher amounts of 100% pure hemp seed oil will keep the skin at ample hydration levels allowing your tan to last days longer while ALA Technology™ and acai berry will fight free radical damage and the appearance of fine lines and wrinkles. For fast results and ultra hydrated skin – the choice is simple – White 2 Black Hemp!™
Super dark bronzers allow the skin to go 3 shades darker instantly.
Hemp Seed Oil for added hydration.
Rich in Anti-Oxidants.
Skin Softeners.
Anti-aging and Firming.
Super charged dark tanning intensifiers with Dark bronzing formula designed to achieve extremly dark results instantly.
ALA Technology™ - Reduces appearance of fine lines and wrinkles.
Hemp Seed Oil – Hydrates and softens the skin for longer lasting tanning results.
White Sapphire – Visibly helps to reduce the signs of aging.
Black Tea – Antioxidant that helps to shrink pore size
Fragrance: Rain Kissed Leaves